MTV's Buckwild cancelled after death of Shain Gandee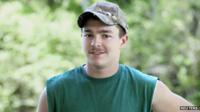 MTV has cancelled the second series of reality show Buckwild after Shain Gandee was found dead in his 4x4 at the beginning of April.
He died from carbon monoxide poisoning and was found 15 miles from Sissonville in West Virginia, the town where the show was filmed.
MTV spokesman, Jake Urbanski, said it was "not an easy decision" and added the show could not go on without him.
Not everyone at MTV agrees with the decision to cancel the series.
A producer on the show said: "This is the network that has shows about teen pregnancy.
"They'll stick by a show that allows you to abandon a child, but a kid dies by accident doing what he does... This will get ugly."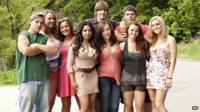 His uncle was with him in the car and was also found dead with one other person.
His family said they died doing what they loved.
Buckwild followed the lives of nine teenagers in West Virginia.
Shain Gandee was 21 and described as "an incredible, outgoing, and positive person who was loved by whoever he met".
The show will return with a day dedicated to Shain Gandee showing the first series and a special episode named Buckwild: West Virginia to the New York City.
Follow @BBCNewsbeat on Twitter