Justin Bieber Twitter followers '50% fake' says report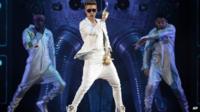 Around 50% of Justin Bieber's followers on Twitter are fake, suggests a report which looked into social media profiles on the microblogging site.
The 19-year-old has the most followers in the world after overtaking Lady Gaga last year.
But new research claims out of his 37.3 million followers, only 17.8 million are linked to real accounts.
The website Socialbakers found 47% of the singer's followers on Twitter were genuine fans.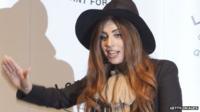 The company spots fake accounts by looking at the number of followers and seeing if genuine tweets have been posted, rather than spam.
The data also considers fake accounts to continuously tweet buzz phrases such as "diet", "make money" and "work from home".
The findings mean the teenage singer should theoretically fall back into second place behind Lady Gaga in the race for the most followers.
It suggests that after calculating Lady Gaga's potential share of fake followers, she still has 19 million real ones compared with Justin Bieber's 17 million.
Follow @BBCNewsbeat on Twitter