Afghan interpreters 'need' asylum after British pullout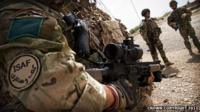 Interpreters working for the British Army in Afghanistan say they are worried about being left in the hands of the Taliban once coalition forces leave in 2014.
Many military officials say they think translators need to be granted asylum to keep them safe.
Senior politicians have said it is shameful Britain doesn't provide Afghan interpreters with automatic asylum.
Newsbeat spoke to two soldiers who worked with the interpreters.
Ett Gray spent seven months at his patrol base in Helmand province Afghanistan.
He lived and worked with the interpreters and spoke about the personal sacrifice they made for British troops and Afghanistan's civilian population.
He said: "We'd get out of the vehicle to search for roadside bombs and the interpreter would put himself in harms way to stop the locals from coming near the danger."
Families targeted
Afghan interpreters told Newsbeat in 2011 that they were worried they would be killed after British forces left Afghanistan.
Andy Sturgess was in Afghanistan in 2010 working as a signaller and radio operator, both on base in Kandahar and out on the ground.
He said he did not know if interpreters working for him should be given asylum or not.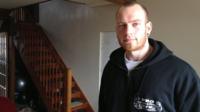 He said: "Afghan culture in general means that a lot of them are quite lazy and I don't know how that will work for a British working lifestyle."
The Afghan helpers are often in danger once returning home.
A military source said one translator had returned home, was shot for working with soldiers and said that their families had also been targeted.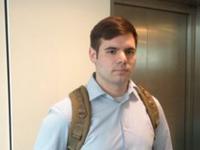 At the end of the war in Iraq all the interpreters were granted asylum in that country but that has not happened yet for the 500 Afghans who work with the British armed forces.
The interpreters work closely with British forces, taking the same risks they do but many aren't trusted by the soldiers.
"They put themselves at risk but shouldn't be given asylum before being thoroughly checked because you can't tell if they're Taliban informants or not," said Ett.
The government says people who have put their life on the line for the UK will not be abandoned.
After the war in Iraq, Britain gave Iraqi interpreters the offer of asylum or a one-off financial payment.
Follow @BBCNewsbeat on Twitter