17-year-old PCC talks about her new role in Kent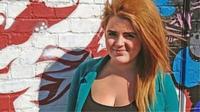 Paris Brown, a 17-year-old teenager from Kent, has been telling Newsbeat how seriously she'll be taking her new role as the UK's first youth police commissioner.
"When you are a young person yourself it's so much easier trying to get information out of other young people."
In her new role she will be working under current PCC Ann Barnes who was elected into her role in November 2012.
Ms Barnes had promised to bring in someone young to help her - and she's chosen Paris.
Paris said she's really excited about her new role.
Sceptics will realise
Paris says "I believe that being able to give people the opportunity of change, giving them alternatives, before saying right you're doing this wrong I'm going to report you".
She spoke about how much influence she will have over the community:
"Ann wants me to be that voice, she wants me to be that link, she wants me to go out and talk to everyone and find out what their problems are so I can relay that back to her."
Her wages of £15,000 a year will come from the £85,000 salary of Ms Barnes who has said she's delighted to be working with Paris, who was selected from 164 applicants.
Paris told Newsbeat that everyone is entitled to their own opinions, but she hopes sceptics will realise the difference, despite her age, that the police and crime commissioners will make to the community.