The Voice to clash with ITV's Britain's Got Talent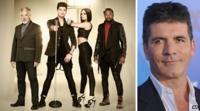 The Voice will clash with ITV rival Britain's Got Talent when the show launches next week as the channels compete for viewers.
The BBC has moved the start time of its 95-minute singing programme from 7pm to 6.45pm on Saturday 13 April.
It will overlap with the first BGT which will run from 7pm to 8.35pm.
It is thought the ITV scheduling allows the show to be watched by younger fans and has been a regular slot for some of its biggest entertainment shows.
Britain's Got Talent has started at 8pm for the last three years.
The competition puts more pressure on The Voice to succeed after last year's series experienced a big drop in viewers after its early stages.
The semi-final drew half the audience it managed at its peak.
An 11-date tour, featuring performances by the its eight finalists, was cancelled following poor ticket sales.
More than seven million viewers tuned in to see Leanne Mitchell win the first series, almost five million fewer viewers than the final of BGT.
The first episode of this series pulled in an average audience of 6.2 million viewers and was beaten by ITV's Ant & Dec's Saturday Night Takeaway which was seen by a million more people.
Last year the start of the two shows clashed on a number of occasions.
Follow @BBCNewsbeat on Twitter