Your view: Police hate crimes against goths and emos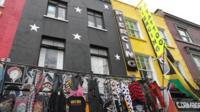 A police force has begun recording attacks on goths, emos and punks as hate crimes.
Greater Manchester Police is the first force in the UK to treat the offences in such a way.
Previously hate crimes were only registered for offences against race, religion, disability, sexual orientation or transgender identity.
It comes after the murder of 20-year-old goth Sophie Lancaster in 2007.
She died after she was attacked because of the way she dressed.
In Camden, north London, there are lots of clothes shops and tattoo parlours for emos and goths.
In some ways it's more easy to spot people who are not dressed alternatively.
Julia Romano, 23, Nightclub Manager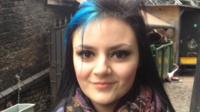 "I think attacking anyone because of what they are wearing is pretty bad.
"But I think if they start making a law about whether it is a hate crime or not, people will just get confused.
"I don't know where the line is. I think we're all a bit like this around here so people wouldn't say anything."
Perry Barher ,23, Shop worker and Juggler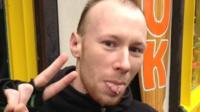 "People who have piercings are always picked on. But we're just like normal people.
"This is a good idea as it will help stop the hatred.
"Although I think to be honest I've actually seen a decrease in abuse as a lot more people with tattoos and piercings are working in shops now.
"But people are stuck in their ways. There is still hate crime going on because of how we look."
Follow @BBCNewsbeat on Twitter
"I'm so glad attacks against goths, emos and punks are now being recognised as serious as they really are. It's about time! @Freya_H_L
"Hate crime is a hate crime regardless of who it's aimed at." ‏@dannybirch1
‏"If you dress outlandish according to normal people then you're going to attract attention, but no-one should be violent." @JamesRandaII
Follow @BBCNewsbeat on Twitter