Hollywood auditions removed from Beverly Hills auction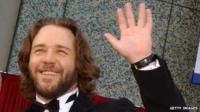 Audition tapes from some Hollywood stars like Leonardo DiCaprio have been removed from an auction after complaints by the Screen Actors Guild (SAG).
The tapes were due to be on sale at the Hollywood Legends auction in Beverly Hills over the 5 and 6 of April.
They also included auditions from Russell Crowe and Brad Pitt.
SAG asked for the tapes to be removed saying that "auditions are not public performances".
There were 54 tapes in total.
Each one was expected to reach between £1,000 and £2,500 with Star Trek and Superman memorabilia still being sold.
Two employees from the auction house had shown a few of the tapes on the NBC show Today before they were removed from going on sale.
A spokesman said: "Performers are entitled to expect them to remain private."
Among the the tapes were the failed auditions of Helen Hunt auditioning for Jurassic Park, Leonardo DiCaprio's audition for the 1990 TV show The Outsiders and Russell Crowe's successful audition for the role in A Beautiful Mind.
Follow @BBCNewsbeat on Twitter