Farmers count the cost after lambing season snow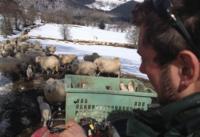 On just one round of his fields on Wednesday, hill farmer Jonathan Davies pulled the bodies of five newborn lambs out of mud and ice.
Dozens more carcasses have slowly come to light in recent days, as deep snow on his land has started to melt.
The 29-year-old from Llangollen in north Wales explained: "We've had drifts 12 or 15 foot deep (3.5 metres to 4.5 metres).
"It took us four or five days to get to some places where sheep were stuck."
Along with hundreds of other farmers around the country, his spring lambing season has coincided almost exactly with what he describes as "absolutely arctic conditions".
It has been the coldest March in more than 50 years.
'Nothing we could do'
"We've had lambs born in the cold, freezing to the ground and just starving," added Jonathan Davies.
"We've had temperatures of minus -8C (17F), minus -10C (14F), snowdrifts 12 or 15 feet deep (3.4m or 4.5m).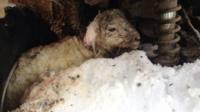 "There's been nothing we could do about it."
Some estimates put the total number of cattle and sheep killed in the last two weeks at more than 25,000 across the UK.
In parts of the country, dozens of wild ponies are reported to have been buried in drifts.
Jonathan Davies also had part of a shed roof collapse under snow, putting ewes and lambs in danger that he had thought were out of harm's way.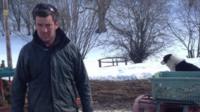 "The lambs were in snow and cold and it was blowing a gale through the shed," he explained.
He added that he felt luckier than other farmers he knows, who've had entire buildings destroyed the same way.
"Whole sheds have come down," he said. "What can you do then? You can't even go in and try to get animals out."
The National Farmers' Union (NFU) is calling for charges to be temporarily dropped on collecting dead animals from farms, which they say could amount to thousands of pounds in some cases.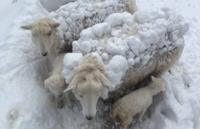 The umbrella body, the National Fallen Stock Company, said in response that farmers could reduce costs by having carcasses removed in bulk or by removing stock from farms themselves.
Jonathan said it could be weeks before enough of the snow on his land was melted to finally be sure how much stock he had lost.
Even then, he said, it would take months of extra work to repair fences and buildings and get his family's farm back to normal.
Asked what he would remember in years to come about this lambing season, he replied: "Just the amount of death. And how there's nothing you can do about it."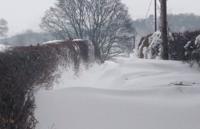 Follow @BBCNewsbeat on Twitter