Psy reveals Gangnam Style follow-up Gentleman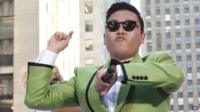 South Korean rapper Psy has announced details of the follow-up to Gangnam Style.
New song Gentlemen is set for release in South Korea on 12 April.
The track will be performed live a day after its release. Psy has asked his fans to wear white as he says he will be on appearing on stage in a space suit and wedding gown.
Gangnam Style has achieved 1.5bn hits on YouTube so far, and over one million UK sales.
The new dance will rival the 'invisible horse' and Psy hints it will be modern twist on a Korean classic.
'The difficulties'
The singer will be on tour for three months, beginning in the US this April, Europe in May and finishing in June with a tour of Asia.
Psy is keeping the contents of the song very quiet, however has said: "The new song is extremely fun and what I can tell you is the song title is Gentleman".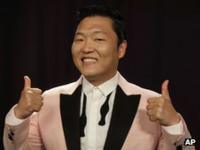 The 35-year-old K-Pop sensation has in the past described the difficulties of attempting to follow-up Gangnam Style.
"The problem is my music video is more popular than I am," he said. "So I've got to overcome my music video first."
He recently tweeted a photo of himself with his face covered calling it, "pain of creation", and said the stardom has taken a toll.
In 2012 Psy was presented one of South Korea's highest cultural honours the Okgwan Order Of Cultural Merit, he also performed for the new president of South Korea, Park Geun-Hye at her inauguration ceremony.
Follow @BBCNewsbeat on Twitter