Finding Nemo sequel, Finding Dory, to be released in 2015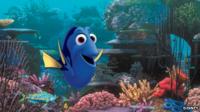 Disney has announced the name of the sequel to 2003's Finding Nemo.
Finding Dory is due to be released in November 2015 and will again star Ellen DeGeneres as Dory, the forgetful blue tang fish.
It will be directed by Andrew Stanton, who made Finding Nemo and WALL-E, but was also responsible for the flop action film John Carter.
"I'm not mad it took this long," said Ellen DeGeneres talking about the new film.
"I know the people at Pixar were busy creating Toy Story 16, but the time they took was worth it.
"The script is fantastic. It has everything I loved about the first one: a lot of heart, it's really funny, and the best part is it's got a lot more Dory."
The sequel will take place a year after the end of the first film, which saw Dory join Nemo's father Marlin in the search for his missing son.
Finding Nemo also starred Albert Brooks, Willem Defoe and Eric Bana.
The film won an Academy Award for best animated feature and made more than £600 million around the world.
Alexander Gould, who played the part of Nemo, said recently that he was "devastated" to realise his voice had become too deep to play the part.
Follow @BBCNewsbeat on Twitter