Two Geordie Shore cast Dan and Ricci announce their exit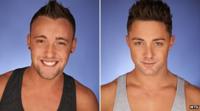 MTV has confirmed that Geordie Shore cast members Dan Thomas and Ricci Guarnaccio are leaving the show and won't be part of the next series.
Series 6 is due take place in Australia.
MTV have not announced whether the pair will be replaced.
Other cast members including Charlotte, Vicky, Sophie, Holly, Gaz, James and Scott will still be taking part in the reality TV show, according to the music channel.
Ricci was engaged to cast member Vicky, but she called it off in Series 5.
In a statement from MTV, Ricci said: "After four series on Geordie Shore, I feel like it's now my time to finally move on.
"This past series has been particularly tough for me, especially publicly broadcasting my relationship with Vicky, which has definitely had its ups and downs.
"I'm happy now to let Vicky do her thing on the show, and move onto other things for myself, out of the Geordie Shore house."
Dan joined the cast in series 4 and described his short time in the Shore house as "a once in a lifetime experience".
He added: "Geordie Shore continues to be an amazing part of my life, meeting mint people in and out the house and visiting fantastic places and countries.
"I'm really gonna miss living with everyone as they're like a second family to me, especially the lads.
"I'm so grateful for having been given such an incredible opportunity by MTV. I've decided not to head to Australia with the rest of the crew and am staying in Newcastle where in intend to pursue some exciting personal projects."
Follow @BBCNewsbeat on Twitter