Girls Aloud's Sarah Harding felt suffocated by reunion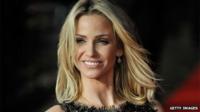 Sarah Harding has revealed she felt "suffocated" by the end of Girl's Aloud's recent reunion tour.
The band split in March 2013 after completing their 10-year anniversary UK tour.
"We've just had eight weeks of being together non-stop, so it's nice to have a break," admitted Harding in an interview with Look magazine.
"It's like being sisters - after a while you feel a little bit suffocated."
That said, Harding insists herself, Nadine, Kimberley, Cheryl and Nicola are "all very close" and that she's been in touch with Cheryl the most since Girls Aloud went their separate ways.
There have long been rumours about disputes among the five members of Girls Aloud, fuelled again by a twitter post from Nadine Coyle on the night the band split.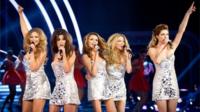 Coyle wrote; "You should know by now I had no part in any of this split business. I couldn't stop them. I had the best time & want to keep going."
Reacting to that tweet, Harding now says: "I was unaware she (Coyle) even felt like that," before adding "at no point did she try and stop us, so you'd have to ask her why she did that."
However Harding remains diplomatic towards her bandmate's twitter outburst, saying "I have to respect her decision".
The 31-year-old singer and actress did let slip about the differing roles undertaken by each member of Girls Aloud though, revealing: "Me and Nadine are more music orientated - more vocals - and the other three are more about dancing.
"Nicola was more about the clothes. Choreography is Cheryl's forte."
As for what's next, Harding recently continued her run of acting work with a role alongside Denise van Outen in the film Run For Your Wife.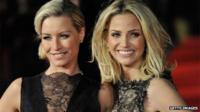 And she seems content with going solo, admitting "when there's five of you, it's difficult to have a say in everything. I'm looking forward to having more control".
Follow @BBCNewsbeat on Twitter