Introducing… Jacob Banks
28 March 2013

From the section

Music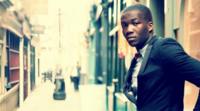 The success of Jacob Banks' proper debut single Worthy has put the 21-year-old in some interesting situations.
"About a week ago I went to the cinema with my friend. I was at the urinal," he begins.
"There's something called the 'Splash Zone'. It means you have to keep a gap of at least one urinal between you and the other guy.
"I was having a wee, so was he. Mid-way through he shuffled across and says, 'I love Worthy you know'. And that was it. I was like, 'It's alright, man'."
Back story
Not all of Banks' encounters have been quite so personal, but he can expect to get recognised a lot more.
It's been a giddy ride for the Birmingham star, especially since he only picked up a guitar and wrote his first song 12 months ago.
"Before that I've always been into music but I never thought I'd be an artist," he explains.
Indeed, as a teenager he was preoccupied with playing basketball and, later on, running a dance company.
"The first piece of music I ever heard was a Westlife album. I got into music late. I was like 13," he says.
"I remember it moved from Westlife to Sisqo, I wanted to be Sisqo. I found hip hop, soul music and other genres."
Following that he mucked about making music with friends. Some years down the line, he decided to quit his studies in civil engineering and give music his full attention.
"It took one of my best friends to pass for me to realise that it could all be finished any second and I could lead a life where I was happy."
Breakthrough
In August 2012 he recorded an EP with some mates, The Monologue. It was released at the start of 2013.
The attention garnered by its modern soulful centrepiece, Worthy, has earned him a slot supporting Emeli Sande on her April UK tour.
"Do you know what that's going to do for my Instagram?" he laughs. "I'm going to have 'likes' everywhere."
While Banks says he has enough material written for three debut albums, for the moment he's just focussed on working hard.
"I worked with Plan B a couple of months back and he told me to be honest in my music - so did Wretch 32. People who I look up to.
"I make music because it makes me happy."