Military honours: Soldier swam his comrade to safety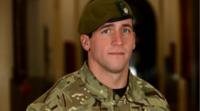 Members of the Armed Forces have been recognised for their bravery.
The names of 118 people have been announced in the latest round of military honours.
Many of those awarded were fighting in Afghanistan's Helmand province in summer 2012.
Newsbeat's been speaking to Private Lewis Murphy, who's received a Queen's Commendation for Bravery (QCB) after he put his own life at risk to carry an injured comrade to safety.
Deep river
The 24-year-old, from 3rd Battalion, Yorkshire Regiment, was searching the jungle in Afghanistan for insurgents when he and his team came under fire.
"It's a bit of a surreal situation," he said.
"You sort of think, 'Right what's happening?'. Then the training kicks in - get a knee, look through your side, try and find the enemy position."
Two soldiers were shot at close range - one of them in the neck.
They needed medical help, but that meant crossing a deep river. Lewis realised his heavy kit would drag him down.
"My first initial thought was, 'I've to get my body armour and my helmet off'," he said.
"That's the only way I'm going to get my very close friend across this river."
'Time is critical'
He put the injured soldier on his back and began to wade and swim through deep mud and water.
"The main thing that was going through my head was, 'I just need to do this'," he said.
When he reached the other side, he took the soldier in his arms and started running. He got about 20 metres before his colleagues caught up and helped the injured soldier to the helicopter.
"Time's critical when you've got a casualty on your hands," said Lewis.
The honours list recognises service personnel on operations in Afghanistan and the rest of the world between April and September 2012.
Among those also included was Captain Mike Dobbin, who led an attack in the face of machine gun fire. He's been awarded the Military Cross.
And Army medic L/Cpl Abbie Martin, 20, has been recognised for treating a dying comrade while under fire during her first patrol.
Lewis said it was an honour to be awarded a QCB. But at the time he didn't think about the danger he was in - his instincts just kicked in.
"It's full-on. You need to be ready to do it and just crack on with the job," he said.