Producer Ryan Tedder has 'ideas' for a new Adele album
21 March 2013

From the section

Music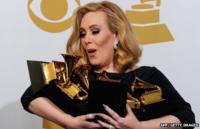 Ryan Tedder says he has "some ideas" ready for when Adele decides to record a new album.
But the producer confirms there are currently "no talks" taking place around her recording new music.
Tedder says: "At least as of last week, from the label, I've been told there is no actual talks happening right now - whatsoever."
He worked on two tracks on the star's 21 album, co-writing one, and also worked on her Bond theme Skyfall.
New 'narrative'
Tedder, who also sings with US band OneRepublic, says he would "love to" work with the London singer again.
He said he agreed that Adele should take a break following the success of her two albums.
"I would just chill for a minute. She has a kid, she has been chilling and she should," Tedder explains.
"At which point she wants to start working again I'm sure she'll kick it off with [producer - Paul] Epworth, I would assume, as I would.
"I would of course, go in, in a heartbeat. I already have a couple of ideas. To me though it would come down to, 'Ok, last album was bitter and heartbroken'.
"That was the narrative. It's hard for me to even come up with ideas without knowing what the narrative would be now.
"Everything she does is so instantaneous, instant, real, authentic. The most I could possibly come up with would just be music. I'm not going to put words in her mouth for anything."
The producer also revealed that he'd almost lost tracks Adele had recorded for 21.
"I remember the stress of the day when I thought I had lost the files for Rumour Has It," he admits.
"I had, they legitimately weren't on my laptop and I lost my mind. I called my manager screaming.
"I've never been so stressed when it comes to music. They had been on an external drive that had crashed.
"I called Serenity, which was the studio in LA. I thought, 'There's no way they're going to have these.'
"I couldn't reach the engineer. She [the receptionist] said, 'I'm sorry, the engineer that was with you that day, he's not here.'
"Then I got a call from him. 'Ryan. You're calling about the Adele sessions yeah? I put that on my own drive. I backed it up personally.'
"I was like, 'Oh my god'."
Adele's 21 is the fourth biggest-selling of all time in the UK.
Tedder, who has written tracks for artists including Rihanna and Beyonce in the past, will release his third album with OneRepublic, Native, on 25 March.