One Direction to launch Simon Cowell YouTube talent hunt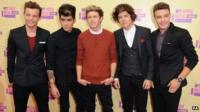 One Direction are to launch Simon Cowell's latest worldwide talent hunt with a live online interview.
Cowell is creating a year-long contest, The You Generation, in which hopefuls from make-up artists to chefs will audition on YouTube.
Each fortnight organisers will hold a new contest to find the best in a different skill.
One Direction will mark the launch of the competition with an interview just before their latest concert.
The contestants will be judged by experts in that field as well as executives from Simon Cowell's company Syco.
Each winner will receive a cash prize every second Friday and eventually 26 finalists will go forward with the hope of winning a grand prize at the end of the year.
'Global scale'
The X Factor and Britain's Got Talent boss announced the new online talent search earlier this month.
His company said it would give hopefuls "the chance to have their talent recognised on a truly global scale".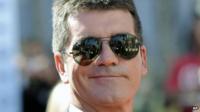 Simon Cowell said of his decision to turn to YouTube: "We wanted to devise a way that it's easier for you to get noticed.
"It's a simple idea, you upload your videos. It goes way beyond singers or dancers or the kind of stuff we've done before, and all the resources I have here - or we have at Sony - are all behind it.
"So if you're good you're going to get noticed and you're going to get discovered."
Simon Cowell said YouTube has changed the way the music business looks for new stars, with talent scouts scouring videos that new artists upload.
"The system's changed now," he said. "It's a fantastic vehicle, it's changed everything. It's literally changed the music business - for the good.
"It's the biggest TV channel now in the world. The problem is there's just so many videos being uploaded. Part of the reason we have come up with our own idea is you are definitely going to get seen on this."
One Direction will launch the competition at 7pm on Wednesday.