Lindsay Lohan given rehab over Los Angeles car crash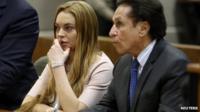 Lindsay Lohan has been given 90 days in rehab for charges relating to a car crash last June in Los Angeles.
She accepted a deal to avoid the case going to trial after her sports car crashed into a truck on the Pacific Coast Highway last summer.
She pleaded no contest to reckless driving and lying to police. A charge of obstructing an officer was dropped.
The actress, 26, also has to carry out 30 days community service and 18 months of psychological therapy sessions.
She was fined by Superior Court judge James R. Dabney, who gave Lindsay Lohan until a court date on 2 May to enrol in a rehab programme,
The actress arrived nearly an hour late for Monday's court hearing and had her probation extended by two years.
Plea deal
If she sticks to the plea deal, she may be able to avoid 180 days in jail for violating probation in a separate case.
Lindsay Lohan and her lawyer Mark Heller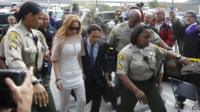 She was sentenced to four months in jail in 2011 over the theft of a $2,500 gold necklace from a shop in Los Angeles the year before.
Out of court, Lohan has struggled to regain her stature in Hollywood after appearing in films like Freaky Friday and Mean Girls as a teenager in 2003 and 2004.
In 2007 she was arrested twice for driving under the influence and sentenced to several short jail terms and rehab for failing to perform community service and missing counselling sessions.
She missed the premiere of Machete in 2010 because of her court troubles and her acting return in 2012's TV movie Liz & Dick was widely panned by critics and viewers.
Her next project is The Canyons, a film that also features porn actor James Deen.