Ex-paratrooper: Hard to control my aggressive nature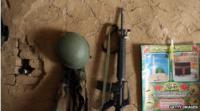 Young British men are more likely to commit violent crimes if they've served in the Armed Forces, a new study suggests.
It shows that more than a fifth of around 3,000 military men under 30 had a conviction for violent offences compared with under 7% of the general population.
Researchers at King's College London compared the criminal records of civilians with 13,000 serving and ex-military staff.
One 28-year-old former paratrooper, who wanted to remain anonymous, was willing to answer questions about his "aggression" after leaving the Armed Forces.
What were your duties in the Armed Forces?
In Afghanistan we had to secure a village and oversee teams to get rid of Improvised Explosive Devices (IEDs) so families could move back to the area after the Taliban forced them out.
Did you find life after the forces hard?
Very much so. My entire psychological profile was moulded to the army. After leaving I had to start from scratch to build up my people skills.
Did you find a job easily afterwards?
It was difficult, I ended up doing three part-time jobs working seven days a week. I mainly did bar work and hospitality agency stuff.
Did you become more aggressive after leaving the forces?
I found it hard to shed the aggressive nature we had spent so long perfecting, simple things would irritate me. I would address it through explosive outbursts.
Did you ever get into trouble with the police?
I received abuse from a customer at work while working in a convenience store. I ended up punching him over the counter. I was a given a community resolution order (an official apology).
How long did this all go on for?
I've been out since November 2011 and still have issues with anger, drink, recreational drug taking, sleepless nights and high and low emotional bouts.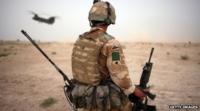 Did you try and get help?
I tried to get anger treatment through my GP but was told I couldn't be treated as I wasn't in danger or a victim of abuse.
I was told to look at websites for anger management.
I felt, 'What is the point talking to strangers about stuff they don't the have slightest clue about?'
Does the forces offer help when you leave?
After our Afghanistan tour we were asked if we needed help and of course nobody did.
I think it's embarrassing to be a paratrooper and openly ask for help. It needs to be a one-to-one question.
I know that I was left feeling really mixed up after seeing my friend killed by an IED.
If you're affected by any of the issues in this story visit Combat Stress for Veterans or PTSD