Dave Grohl backs new artists during SXSW keynote speech
15 March 2013

From the section

Music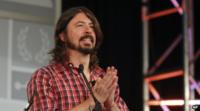 Dave Grohl has told a music conference that budding singers and artists should ignore what is in the charts and concentrate on making their own music.
The Foo Fighter opened South by Southwest (SXSW) in Texas, giving the keynote speech to around 1,000 people.
"There is no right or wrong," he said.
"There is only your voice, your voice screaming through an old recording console, singing from a laptop, echoing from a street corner, a cello, a turntable, a guitar."
He added: "It doesn't matter. What matters most is that it's your voice. Cherish it. Respect it. Nurture it. Challenge it. Stretch it. Scream it until its gone. Because everyone's blessed with at least that. Who knows how long it will last?"
During his speech, he praised young artists promoting their own material and said technology made anything possible.
"Independence as a musician has been blessed by the advancement of technology," he said.
"[It] makes it easier for any inspired young musician to start their own band, write their own song, record their own record, book their own shows."
He also accused TV reality shows of "stifling creativity".
"Who's to say what's a good voice and what is not a good voice? 'The Voice?'" he asked, name checking the reality music show featuring a panel of celebrity judges.
"Imagine Bob Dylan playing Blowin' in the Wind in front of Christina Aguilera."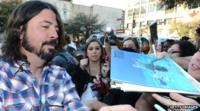 The audience fell silent when the former Nirvana drummer spoke about Kurt Cobain's suicide in 1994.
He told the crowd how it led him to give up listening to music before he founded Foo Fighters months later as a personal solo project.
He said he had recorded 14 songs over five days. "I considered it an experiment (and) therapy," he admitted.
During the speech, he admitted that he was a big fan of South Korean rapper Psy's viral hit Gangnam Style, calling it "one of his favourite songs of the past decade".
Dave Grohl is also due to perform with his supergroup Sound City Players at the festival.
His documentary about the Sound City recording studio in Los Angeles - where Nirvana recorded their 1991 hit Nevermind - is also a highlight of SXSW.
Around 2,200 acts have been lined up to play at the 10-day conference in Austin, the state capital of Texas, which closes on Sunday.