Hurts star: I fell asleep on stage in Kiev during song
15 March 2013

From the section

Music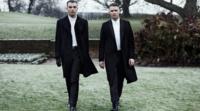 Pop duo Hurts toured their debut album Happiness so relentlessly one of them fell asleep on stage in the middle of a gig in eastern Europe.
They'd pushed themselves to the limit. And they're back to do it again.
Adam Anderson, one half of the Mancunian duo, is recalling the experience of falling asleep in the middle of a song.
"I had a moment in Kiev," he says smiling and shaking his head.
"We've got this song called Unspoken - it'll disappoint some of our fans, it's a very emotional song but at that moment, I got tired."
"There's a break in the middle where Adam doesn't play," cuts in his bandmate, singer Theo Hutchcraft. "It's just strings, but it must have been that bit."
Adam continued: "I think you woke me up by slapping your hand on the piano."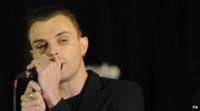 As Adam's sleepy actions suggest, after three years of performing the same songs "fatigue" had set in.
The pair, by their own admission, were heading for burn out.
"There was an emotional meltdown in Innsbrook (Austria). I remember that," says Adam, sounding surprised.
"I threw my piano on the floor. I found Theo quivering in the stairwell a few hours later.
"We got it together for Brixton [Academy, the final show of the European tour] and got drunk with Clive Owen and David Ginola.
"I showed him a video of me doing kick-ups."
Eventually it was back to reality though.
Or in Adam's words: "Theo ate beetroot sandwiches in Manchester for a year and we got miserable again."
Theo added: "We came off this three year period of chaos. Within three weeks we'd become institutionalised buying cans of tuna and walking down the curry mile every day getting a paper."
During writing sessions for their second album, they stretched each other's sanity to breaking point.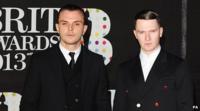 "We knew we'd have achieved what we wanted to if we got six months down the line and forgot our own names and walked round like ghosts in this flat," says Theo.
"I had a moment where I watched shopping channels and ate four boxes of fig rolls - I didn't speak to Theo for two days," recalls Adam.
Theo nods and says: "Once you've lost perspective, you can't go any further."
The result is Exile - a more hook-laden album than their debut.
"This time it had to be big, exciting and powerful."
Exile is out now.