Bond producer praises cinema staff for stopping piracy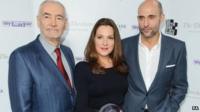 Skyfall producer Barbara Broccoli has praised cinema staff who stopped the latest Bond movie from being pirated after its general release.
Thirteen workers from cinemas across the UK were presented with cash rewards for preventing illegal recordings of films including Skyfall, Ted, The Dark Knight Rises and The Hobbit.
Attempts to record were reported to police and resulted in two arrests.
In 2012, the UK accounted for 7% of global cinema box office receipts.
"I think it's very important," said Barbara Broccoli after receiving the film award for Skyfall at the South Bank Sky Arts Awards in London.
"You know piracy is one of the enemies of the film industry and I think the audiences have been very vigilant."
The rewards scheme has been going on since 2006 and is supported by the Film Distributors' Association.
According to the Federation Against Copyright Theft, worldwide illegal recordings from cinemas remain the single biggest source of both counterfeit DVDs and unauthorised copies online.
Twelve separate attempts to illegally record footage were stopped by cinema staff, six of which were of Skyfall.
Barbara Broccoli added: "They have been out there reporting people who have been pirating films and I think it's because people want to enjoy the film experience in the cinema and they don't want people to steal the product.
"So here's to the audiences, thank you."
Mendes loss
Barbara Broccoli also commented on the loss of director Sam Mendes, who recently confirmed he would not be directing the next Bond movie.
"Sadly we're devastated that he's decided not to do the next one," she said. "We're just catching our breath.
"He's done it and he's made one of the most successful films ever, the most successful film in the history of Britain."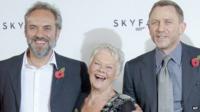 Producer Michael G Wilson added: "We may get him back in the future. But who knows?"
Both admitted that because of the success of Skyfall, they were feeling the pressure for the next Bond film.
"For us there's always the pressure because we don't want to disappoint the fans," said Barbara Broccoli.
"The fans have kept us going all these years and so we always try to make a film that will please them and so the pressure is on even more so than ever.
Barbara Broccoli also said that despite the next Bond film being "a long way off", the invite was there for Adele to perform the theme tune for it.