Kelly Osbourne hospitalised after 'seizure' on TV set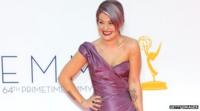 Kelly Osbourne has been hospitalised in Los Angeles after having a "seizure" on the set US TV show Fashion Police.
A spokeswoman for her told the cable network that the 28-year-old TV personality "was awake, alert and in a stable condition".
The star later wrote on Twitter: "Yes I did have a seizure they are just trying to figure out why?"
She also posted a picture of herself from hospital, where she was kept in overnight for observation.
The 28-year-old is the daughter of Black Sabbath frontman Ozzy Osbourne and The Talk co-host Sharon Osbourne.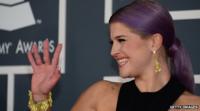 Kelly Osbourne became famous in her own right when her family featured in the MTV reality series The Osbournes from 2002 to 2005.
She has since appeared as a contestant on Dancing with the Stars.
She's currently a panellist on E! network's Fashion Police with Joan Rivers, Giuliana Rancic and George Kotsiopoulos.
Kelly Osbourne's brother, Jack, was diagnosed with multiple sclerosis last year.