X Factor's Rylan Clark wins joke award at Loaded Laftas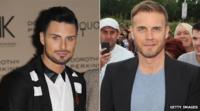 Rylan Clark and Gary Barlow have jointly won this year's joke of the year and best double act at the Loaded Lafta comedy awards.
The X Factor contestant was being critiqued on stage by the star and revealed that he used to be in a Take That Tribute band.
In response Gary Barlow said: "I hope you weren't me," to which Clark, 24, replied: "Naa, I was too skinny."
Radio 1 DJ Greg James won the funniest radio show prize.
He tweeted: "Just won a Loaded Lafta for my radio show. That's bloody fun isn't it! Thanks Loaded - you're much more than just boobs. Love you."
Speaking at the awards, Rylan Clark said he had no plans to try stand-up comedy.
"I don't think I could ever be a stand-up comedian, I don't like standing there and telling jokes," he said.
"Music and TV is what I'm doing at the moment, I've never thought about stand up comedy. Everyone says it but I prefer being funny by just being real."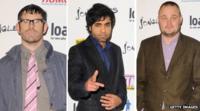 Funniest TV personality went to Angelos Epithemiou who beat the other nominees Adam Hills, Rylan Clark, Tim Lovejoy and Paddy McGuinness.
Keith Lemon walked away with two awards.
Celebrity Juice won best panel show and Keith Lemon The Movie won funniest film.
Al Murray was given this year's Loaded Lafta comedy legend award.
The 44-year-old said: "I started out 20 years ago and it's nothing like it was 20 years ago.
"It's changed enormously in the last 10 years. Suddenly everyone likes it. Comedy used to be the poor relation, it's not any more."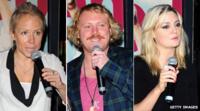 Loaded editor, Ian Edmondson said: "It's because of people like Al Murray that we once ruled the world. I also salute the rest of our winners, great, talented people who really are the reason why the world laughs at us."
This year's ceremony was hosted by Soccer AM presenters Max Rushden and Helen Chamberlain.
The Loaded Laftas winners in full:
Comedy legend - Al Murray
Best male comedian - Harry Hill
Best stand-up - Paul Chowdhry
Best female comedian - Morgana Robinson
Funniest double act - Rylan Clark & Gary Barlow
Best panel show - Celebrity Juice
Funniest TV show - Cardinal Burns
Funniest film - Keith Lemon The Movie
Funniest columnist - Clemmie Moodie
Funniest TV personality - Angelos Epithemiou
Funniest Tweeter - Danny Dyer
Funniest DVD - Lee Nelson live
Funniest podcast - Dave's comedy podcast
Funniest radio show - Greg James BBC Radio 1
Best newcomer - Nick Helm