McGregor doesn't want Disney to recast Star Wars role
Ewan McGregor has staked his claim to Obi-Wan Kenobi by admitting if the character returns for Star Wars Episode VII then only he should play him.
McGregor was cast as the Jedi hero in three previous Star Wars films but says he hasn't been approached yet about reprising the role.
"I don't know how it would work," McGregor said when asked if he would like to return to Star Wars.
"If they needed Obi-Wan Kenobi I would rather it was me than someone else."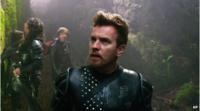 Disney announced in January that Star Trek's JJ Abrams would direct the next Star Wars film, for release in 2015.
Since then there has been much speculation about which characters from the original trilogy, and the later prequels, would return for the new Star Wars movies.
McGregor laughingly said he would be "furious" if Obi-Wan was brought back but the role was re-cast.
"How dare they re-cast it," he smiled.
Ewan McGregor will next be seen tackling mythical giants in the role of Elmont in Bryan Singer's Jack the Giant Slayer.
Follow @BBCNewsbeat on Twitter