Rizzle Kicks confirm they are working on a TV sitcom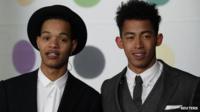 British musicians Rizzle Kicks have confirmed they are working on a TV sitcom.
Harley and Jordan have said although their original comedy was at pilot stage, they have scrapped the plans for it and are "starting again".
The duo were talking ahead of their performance for the Comic Relief Give It Up gig, organised by comedian and actor Russell Brand.
"We just want it to be kind of funny and groundbreaking," said Jordan.
"So we had kind of like a pilot in the works and then another idea surfaced. So we've had to rethink a lot of things," added Harley.
The pair said they also had a wish list of people they would like to star in it, but wouldn't reveal any names until the format was complete.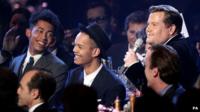 "Giving people half ideas is like the worst thing," explained Jordan.
"TV is a very big world to jump into and you don't want to make a real move and obviously we're like a large percentage of the creation, writing wise and stuff.
"We just want to get it right and not make it seem gimmicky," he added.
The pair have been touring in the United States with Ed Sheeran and say they don't know whether America is the next market they should attempt to conquer.
They also said that they were really happy to have been asked to perform at the Give It Up gig, as Jordan said he "has more of a personal connection" to the cause than he would "probably like to say".
The event was to help raise money to support people affected by drug and alcohol addiction.
Follow @BBCNewsbeat on Twitter