Record complaints about mobile phone insurance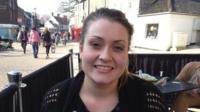 A record number of complaints are being made about mobile phone insurance.
The Financial Ombudsman Service says it dealt with around 600 between April 2011 and 2012 and upheld 69%.
But it is expecting a 25% increase on that figure when the numbers for the current financial year are gathered at the end of this month.
However, it says those complaints are only the tip of the iceberg when it comes to people unhappy with their insurance provider.
Twenty-three-year-old Kim Martin from Thetford says her phone is lifeline for her: "I plan my days by calling people I need to, emailing people, keeping in the loop with all my friends and friendly.
"Basically I use it for everything."
'Scratched' replacement
After accidentally ruining her phone when a bottle of fruit juice leaked in her bag, she didn't get the service she was expecting.
She was sent a refurbished phone to replace the new one that had been broken.
"The silver was peeling off the edges of it," she said. "It's scratched in a few places and was marked and that's how it came.
"I could tell it was second hand as soon as I took the wrapper off. But it worked pretty well to start off with so I was happy with that.
"[But now] it's freezing, it doesn't charge properly, the battery runs out really quickly, it turns itself off now and again, it doesn't pick up signal. The list is endless really."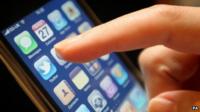 Martyn James form the Financial Ombudsman Service said: "We uphold more complaints about mobile phone insurance than virtually any other product we look at.
"It's round about three-quarters of all the cases we see."
The Association of British Insurers says the complaints only represent a tiny percentage of people who have mobile phone insurance and that it's working hard to bring that number down.
That's not good enough for Kim who, as well as a £26 monthly contract, pays £12 to her bank for mobile phone insurance every month.
"I've paid them £720 in total, plus my £50 excess, so really I don't know how they couldn't afford to give me a brand new phone."