Newsbeat's guide to... Venezuelan president Hugo Chavez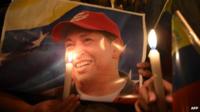 Hugo Chavez, the president of Venezuela, has died from cancer at the age of 58.
He was president of the South American country for 14 years.
He criticised the United States and used his country's oil reserves to boost Venezuela's international power - the country has the cheapest petrol in the world.
For the three months before his death he hadn't been seen or heard by his public.
Rise to political power
Hugo Chavez was a former paratrooper and tried to overthrow the government in 1992.
It was at a time cuts were being made to the economy.
Eighteen people died in the revolt and 60 people were injured before he gave himself up.
He spent two years in prison before becoming a politician.
He eventually won power in 1998 and spent time getting the support of other political leaders in Latin America including Cuba's Fidel Castro.
Who was Hugo Chavez?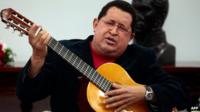 Hugo Chavez was often pictured with a parrot on his shoulder.
He presented Alo Presidente, a weekly television show. It would start at 11am and last for eight or nine hours.
The programme mixed serious affairs of state with songs, folksy anecdotes, quirky behaviour and other antics like bashing on his infant daughter's xylophone.
He was known for having a theatrical flair. When a US newspaper quoted unnamed sources in September 2011 saying he had been rushed to a military hospital with kidney failure linked to his cancer treatment - he summoned the foreign press.
He emerged from the presidential palace in Caracas wearing a tracksuit and a baseball mitt. He took questions for more than an hour as he made jokes and read from the US newspaper.
Why was he controversial?
Poverty and unemployment are still widespread in Venezuela despite the country's oil wealth.
In the past Hugo Chavez criticised the US. Speaking at the UN General Assembly in 2006, he said the podium still "smelled of sulphur" after George W. Bush had used it, calling the then US president the "devil".
He forged a close alliance with Iran and in mid-2011 and was the only vocal supporter of Libya's Colonel Gaddafi, calling him a "beloved brother revolutionary" and condemning the Nato air strikes.
What were his links to the UK?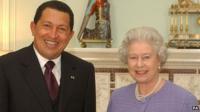 In February 2007, London mayor Ken Livingstone signed an oil deal with Venezuela to provide cheap fuel for London's buses.
He said at the time the agreement would help provide half-price bus and tram travel to around 250,000 Londoners on income support.
In return, the mayor said he would offer officials in Caracas advice on transport, environmental issues, waste management and tourism.
When Boris Johnson took over as mayor he announced he would not renew the deal, saying many Londoners found it "uncomfortable".