Bieber arrives on stage 'on time' after fans' criticism
6 March 2013

From the section

Music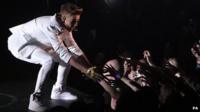 Justin Bieber arrived on stage on time for the second of his shows at London's O2, 24 hours after he was criticised by some fans for arriving late on stage.
The singer was booed at his concert on Monday before he performed.
There was no repeat of his delayed entrance as he took to the stage at the earlier time of 9pm.
Tweeting during the show, Justin Bieber's manager Scooter Braun said: "Not about u fall. It is about how u stand up... Each and every time."
Later on he added: "Amazing show tonight."
During his 95-minute performance the 19-year-old Canadian singer made no reference to Monday night's timekeeping controversy.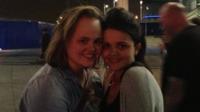 Speaking to Newsbeat after the gig 20-year-old fan Lauren Dawson from Essex said: "He made a point of being on time.
"I've got him on Twitter and he really apologised for being late," she said. "He made sure he was dead on the dot. He made sure he was on stage."
Izzy Murphy-Stanley, 15, from St Albans said: "I wasn't that worried [about him being late]. I saw his tweets when I was coming home from school, that there was technical difficulties.
"I knew it would be all right tonight because it was the second show."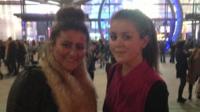 Justin Bieber tweeted an apology to fans on Tuesday lunchtime about Monday night's delay, blaming his late show time on "technical issues".
He said he had been 45 minutes late to perform. Initial reports had suggested he was up to two hours behind schedule.
"There is no excuse and I apologise for anyone we upset," he tweeted.
"However it was great show and I'm proud of that."
"Everyone was booing after half an hour of waiting," said Sammy, Paris and Abbey, speaking to Newsbeat after the gig at London's O2 on Monday.
"Every time a new song came on they kept thinking he was going to come on but he didn't so they started booing."
Following the first O2 concert, promoters for the show AEG Live said: "Refunds will be dealt with on a case by case basis dependent on the credibility of the claim, and all complaints should be sent via customer services for AEG Live."
Justin Bieber will perform two more concerts at The O2 in London, including Thursday 7 and Friday 8 March.
Follow @BBCNewsbeat on Twitter