Carly Rae Jepsen pulls out of Scout gig over gay rights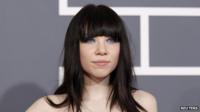 Carly Rae Jepsen has pulled out of a concert organised by the Boy Scouts Of America (BSA), citing the organisation's stance on gay rights.
The Canadian star was due to play at the Jamboree event in July.
She tweeted: "As an artist who believes in equality for all people, I will not be participating in the Boy Scouts of America Jamboree this summer."
A spokesperson for the BSA said: "We appreciate everyone's right to express an opinion."
The BSA, which is 103 years old, is under pressure to change its stance banning gay people from joining the organisation.
It said in January that it was open to removing the ban but that it was down to local chapters to make the decision.
Last month they delayed a vote on ending the ban, with a decision now due in May.
'Ongoing battle'
Carly Rae Jepsen is currently supporting Justin Bieber on his worldwide Believe tour.
The BSA event, held once every four years in West Virginia, is expected to attract more than 45,000 scouts, adventurers, volunteers and staff.
US rockers Train have also warned they won't appear unless the organisation stops barring participation by gay scouts or adult leaders.
Jepsen added: "I always have and will continue to support the LGBT [lesbian, gay, bisexual, transgender] community on a global level and stay informed on the ever changing landscape in the ongoing battle for gay rights in this country and across the globe."