Cars and watches but no wires - The future of mobiles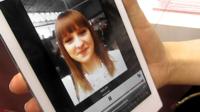 It's thought the number of smartphones in the UK will hit 50 million in 2013.
Consumers spend around £1.9bn on the devices, while mobile phone firms will spend £90m advertising them.
There are more companies than ever, trying to sell you their latest handset.
Newsbeat took 20-year-old Charlotte Foot, a self-confessed phone geek, to Barcelona to visit the world's biggest mobile phone show and find out what the future holds.
Tougher phones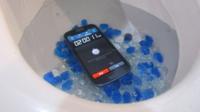 Several companies have showed off their waterproofing technology at Mobile World Congress.
Charlotte was impressed by the 'dunkable phone', which survived being sat in a toilet for two hours despite having all the ports and sockets open.
"Definitely something I'd love and something I wouldn't mind paying a bit more for."
A virtually unbreakable sapphire screen was also on display.
Bigger screens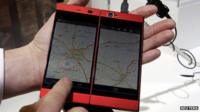 The average mobile phone screen was 2.4 inches in 2010, but is expected to rise to 3.3 inches in 2013.
But Charlotte says she's not a fan of massive screens, and anyway: "It feels as though phones are getting bigger and more powerful, but you can still only do one thing at a time on them."
So she was impressed with a new LG phone which lets you move windows around, like on a PC, so you can for example send a text message while watching a video.
Phones that aren't phones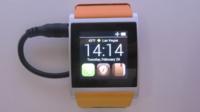 Apple is rumoured to be working on a smartwatch, which could be unveiled later in 2013.
At least one similar product has just gone on sale, which is linked to your smartphone and alerts you to texts and social networking messages.
Charlotte says she might be tempted: "I'm one of those people who has a massive bag, which is brilliant for fitting everything in but impossible for finding anything."
"But do you really want to be seen talking to your watch?"
Your Facebook questions answered
Daniel Rowswell: "How are companies going to integrate their specific devices into the "home" environment?
Newsbeat was given a demo of how you could control your heating, lights, locks, and even feed your cat if you're on holiday, all using a smartphone app.
It needs for all these appliances to be fitted with special chips, though these are getting cheaper all the time.
Leigh Spencer: "Mount itself in my dashboard and run the car giving feedback on engine stats, etc"
Big car firms are already investing heavily in mobile technology in their vehicles, like better voice recognition so you can use smartphone apps to control the stereo or the navigation system.
Jay Ward from Ford says mobile technology could also reduce insurance costs, as cars are able to record more details about where, when and how they're being driven.
"Some people might worry about Big Brother spying, but if it brings your insurance down?"
Stephen Pay - "Decent battery life would be nice."
Over to Shaun Musgrave from LG: "It's unfortunate that battery technology hasn't crept up with everything else that goes on board.
"Big screen sizes, multiple core devices, they're almost mini computers in themselves."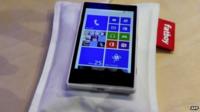 While companies work on better batteries, another solution might be wireless charging - which will soon be trialled in Europe by McDonalds.
Just putting your phone on a special mat while you eat lunch or have a coffee would give the battery a boost.
Alexandra Davis: "Better 3G coverage- its amazing how many places you still only get 2G. They should stop doing 4G until they sort out 3G."
The idea is that some people will be able to leapfrog 3G and go straight to 4G when its rolled out across more of the UK.
In Japan, tests have already started on 5G.