Justin Bieber: Sorry for late gig at London O2
5 March 2013

From the section

Music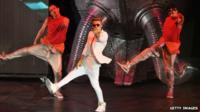 Fans have been telling Newsbeat what the atmosphere was like at Justin Bieber's concert, after the singer arrived late on stage.
"Everyone was booing after half an hour of waiting," said Sammy, Paris and Abbey, after the gig at London's O2.
Organisers piped tracks by artists including Michael Jackson into the arena, while fans waited in the arena.
"Every time a new song came on they kept thinking he was going to come on but he didn't so they started booing."
The girls said that it was "a bit annoying waiting around" but that the 19-year-old pop star was "worth the wait".
When Justin Bieber took to the stage he did not apologise to the crowd for being late.
"He got straight on with the songs. Everyone forgot about it because it's Justin Bieber," said Sammy and Abbey, both 15 and 16-year-old Paris.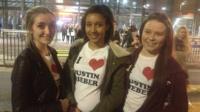 However, writing on Twitter on Tuesday the singer said: "Last night I was scheduled, after 3 opening acts to go on stage at 935 not 830 BUT because of some technical issues I got on at 10:10 so I was 40 min late to stage.
"There is no excuse for that and I apologize for anyone we upset. However it was great show and I'm proud of that
"Tonight we will run on time and look forward to putting on an amazing show for everyone in attendance. My relationship with the media is not always easy but I'm trying. I'm all about the music and the performance and I respect my fans.
"I never have any intent to upset or let anyone down. and I'm not okay with things being exaggerated. Once again sorry for anyone upset.
"Now we have a show to do today and I'm gonna focus on the positive and put on a great show tonight here in London."
Sophie and Rebecca also thought that the Canadian singer's performance last night outweighed the fact he left them waiting.
"He made up [for it] with all his songs. I want to see him again because it was so cool."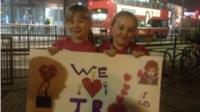 Sophie's mum Kelly said he should have been more responsible, as lots of his young fans had to go to school the next morning.
She said: "We did have to wait for an hour or so which was boring.
"Lots of people left. Lots of people had trains to catch at certain times."
'Unforeseen circumstances'
Fans, Harriet, Sophie and Georgia weren't so worried about getting up for school the next day though.
"It's fine, it's Justin Bieber. It's one day, it doesn't matter."
A statement from The O2 said they "would like to apologise on behalf of Justin Bieber for the lateness of his show".
They added: "Unfortunately due to unforeseen circumstances he wasn't able to take the stage at the time scheduled.
"We hope fans still enjoyed the show and as planned he will be back at The O2 this Tuesday, Thursday and Friday."
Follow @BBCNewsbeat on Twitter