The Hobbit becomes 15th film to earn more than $1bn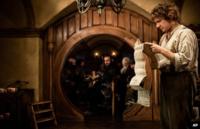 The first part of The Hobbit trilogy has become only the 15th film in history to make more than $1 billion (£666m) at the worldwide box office.
It is director Peter Jackson's second movie to make it onto the list.
The Lord of the Rings: The Return of the King made $1.12 billion (£744m) after its release in 2003.
The film has been criticised by some fans after it was shot in a new format and for its running time, which comes in at nearly three hours.
The standard frame rate, or the number of frames or images that are projected per second, has been 24 frames per second for nearly 100 years.
Peter Jackson shot The Hobbit at 48 frames per second.
Fans also questioned the need to turn the book into three films.
Despite those criticisms, the film has made $300m (£199m) in America with the UK in third place on $84m (£56m), according to The Hollywood Reporter.
The figures do not account for inflation.
The second film in the series - The Hobbit: The Desolation Of Smaug - is out on 13 December this year with the third instalment (There and Back Again) out on 17 December 2014.