Film to be distributed via games console for first time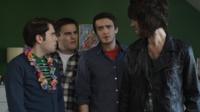 An independent British film is being released via a digital games console platform, rather than through the cinema or DVDs, for the first time.
Pulp, a comedy about a struggling comic book publisher recruited by the police to bust a crime syndicate, will be available to Xbox 360 Live subscribers.
Creator Adam Hamdy says the avenues to allow British independent films to get to audiences have narrowed.
Microsoft says it will be distributing more films this way in the future.
Adam Hamdy admits that as an up and coming film maker it is getting harder to get movies seen.
He said: "At the top end of the indie film business the UK is still pretty healthy, but it's the middle tier and the lower budget tier that's struggling.
"Where they would have been released straight to DVD, the opportunities for doing that have really declined.
"Retailers have gone out of business because of the threat of piracy and because of legitimate digital downloading.
"There has been a decline in the middle to lower budget tier of films that used to get made."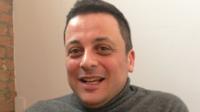 Adam Hamdy blames the large costs around the marketing of the films.
"Theatrical distribution, nowadays, costs on average about £2 million per movie for marketing, prints and advertising," he said.
"For a film like Pulp, that doesn't have bankable stars with a track record, it's a challenge for any distributor to take that gamble."
This year the British film company Revolver, the team behind Plan B's Ill Manors, cut around 12 of its 40 staff.
In a recent statement, UK company Intandem said it only wanted to distribute British films with another distributor and that they wanted those films to bring in cash.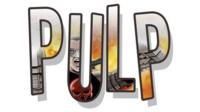 Xbox Live product manager Pav Bhardwaj said it was important for platforms to support British talent.
"It's a great fit," he said. "The film is really well aligned with our audience.
"All our audience like that sort and types of film and it's great to support British talent."
Pulp is available to Xbox 360 Live subscribers from Monday 4 March.