Domestic abuse recognised for 16 and 17-year-olds
1 March 2013

From the section

Health
The government's definition of domestic abuse is being extended in March, to cover 16 and 17-year-olds.
Until now it only applied to people aged 18 and over, even though you are allowed to live with someone and even marry them at 16.
Young people are the most likely to be abused by their partner, according to recent figures.
The change has been welcomed by domestic abuse charities, who say more support is needed for teenage victims.
Get advice from the BBC about abusive relationships
What's changing?
The new definition of domestic abuse for England and Wales covers anyone aged 16 and over, and also recognises emotional abuse like intimidation or controlling behaviour.
Domestic abuse in itself is not a crime but it's hoped the change will lead to more young victims seeking and getting support from police, charities and other services.
Home office minister Jeremy Browne told Newsbeat: "Anybody who is the victim of domestic violence, including 16 and 17-year-olds, should feel empowered to report it.
"They should be able to tell the police and they will be listened to properly."
What about even younger victims?
In Liverpool, four teenagers have put together a school presentation about relationship abuse because they're worried the message isn't getting through.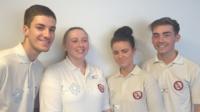 Their close friend Kelsey Shaw was killed by her boyfriend in 2011.
She was just 17 when she died and had already suffered several years of abuse.
One of the group, Tom Ryan, thinks Kelsey needed more targeted support.
"When she was 14, she was attending an adult freedom project with her mum. She didn't benefit- the confidentiality was gone because her mum was there.
"She was sitting there with fully grown women and she would have felt intimidated, so she wasn't getting the full benefit of the service."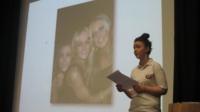 Tom thinks there's more abuse taking place in young relationships nowadays: "People in general are getting 'older' when they're younger.
"Everything is moving too fast and people are growing up too fast, in my opinion."