Perez Hilton announces the birth of his first child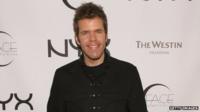 The gossip blogger Perez Hilton has confirmed the birth of his first child.
A post on his website announced the arrival of his son, along with a picture of Perez holding him.
"I am ready to announce that earlier this month I was blessed with the birth of my first child, a beautiful and healthy baby boy - with lots of hair on his tiny head," he has written.
Perez, whose real name is Mario Armando Lavandeira Jr, did not reveal any details of the baby's name or birthday.
The statement went on to say: "My family is overjoyed at this newest and most cherished addition.
"I am so humbled to welcome this little man into my life. And I am honoured and ready for the challenge of guiding him through his."
Perez did not share any information about the mother of his child.
Anti-bullying campaign
Since posting the news celebrities including Katie Price, Paris Hilton and Heidi Montag have tweeted their congratulations.
He has replied saying: "I can't stop crying! Every time someone tweets me "Congrats Dad" or "Daddy" the tears just start streaming! #PoppaPerez"
Perez Hilton rose to fame more than a decade ago and his blogging about celebrity culture has made him famous in his own right.
He has caused controversy on a number of occasions and has been criticised for attempting to "out" homosexual celebrities who have chosen not to reveal their sexuality to the public.
Perez Hilton is open about being gay and has joined in charity efforts aimed at tackling homophobic bullying.
After becoming involved in the campaign, he announced he would be changing the tone of his websites and that he would avoid bullying celebrities.