Music producer defends nine-year-old rapper Lil Poopy
28 February 2013

From the section

Music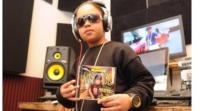 A music producer of a nine-year-old rapper has defended him and his family after a complaint to social services.
Rapper Lil Poopy's father, Luie Rivera Sr is under investigation in Boston, Massachusetts for allowing his son, Luie Rivera to appear in a music video smacking the bottom of an older woman.
Their lawyer, Joseph Krawski Junior told Newsbeat a police officer filed a complaint after watching the video.
Lil Poopy's producer, Brian Slay, says it is because officers "hate hip hop".
He added: "A lot of people think they are knowledgeable and smart about the subject but they are really making an ass out of themselves because they are getting laughed at by the younger generation because they are just way off."
He started working with the nine-year-old about two years ago and says that Lil Poopy is in school, "doing well and is liked by his peers and teachers".
"His parents have given him consent to express himself however he feels. I think it's fine."
Racism claim
Lawyer Joseph Krawski told Newsbeat if Lil Poopy was a "white child actor" he would be getting "an award" for their performance.
"But when you are a young male of Cape Verdean or Puerto Rican decent in this country you end up with an investigation.
"What Lil Poopy has done in these rap video is acting, its entertainment, its nothing different from what young children all across this country do all of the time.
"It all comes down in my opinion to racism, racism, racism."
Brian Slay also added: "Hip hop gets twisted and turned everyday, so it's nothing out of the ordinary. They don't know the jargon, they're really just not hip on anything."
Cayenne Isaksen, a spokesperson for the Department of Children and Families in Boston, said a non emergency investigation like this one could take up to 15 days.
"Social workers and staff will interview the family, professionals and extended family in order to make a determination.
"The department always works to keep a family together so removing a child is always a last resort. But we could make a decision to stay with the family to provide support or we could close the case.