Justin Timberlake and Mumford team up for soundtrack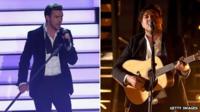 Justin Timberlake and Marcus Mumford have confirmed plans to collaborate on a soundtrack.
The musicians will work together on songs for the next film from the Coen brothers, who in the past have made The Big Lebowski and No Country for Old Men.
The film, Inside Llewyn Davis stars Carey Mulligan, who married Marcus Mumford in April last year.
Justin Timberlake promised the soundtrack would be "fantastic".
"We all kind of worked on the music together and I don't know any other world where we would get the opportunity to collaborate like that, but it was so much fun," he said in an interview with Capital FM.
"So not only will it be a great movie, but the music to it will be fantastic."
Justin Timberlake will also act in the film, alongside John Goodman, Garrett Hedlund and Oscar Isaac.
The plot follows a singer/songwriter exploring folk music in the 1960s and is due out later this year.
Previously Justin Timberlake has starred in films including The Social Network and Friends With Benefits. He is also starring in upcoming crime drama Runner, Runner.
This year has seen his return to music, with his album, The 20/20 Experience out on 19 March.
Mumford & Sons won a Grammy earlier this month for their album Babel, which returned to number one in the US after taking the prize.