Robbie Williams reveals free Guy Chambers Brits track
25 February 2013

From the section

Music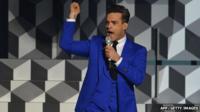 Robbie Williams is giving away a song called Brits 2013 on his website which he wrote with Guy Chambers.
The Take That singer says they put the song together on Saturday and recorded it on Sunday.
Robbie Williams performed his number one single Candy at the Brits last week, which lost out in the best British single category.
The 39-year-old also presented the new Brits global success award to former X Factor boy band One Direction.
The track comes with a parental warning, with the star writing: "If you have kids in the room, don't play it."
It is hosted on Robbie Williams' blog page and is called "a gift from me and Guy".
It begins with a spoken comment about attending last week's Brit Awards and a repeated sample of him saying "blah-de-blah".
In the track he talks about attending the event when he was younger - taking drugs, challenging Liam Gallagher to a fight and having sex with "a few female stars or two".
But opening his rap, he says: "Well that Brits night was so boring."
The pair last worked together on 2002 album Escapology, although a track the pair had written did make it onto 2009's Reality Killed the Video Star.
They also sang together on stage last November.
Guy Chambers co-wrote 19 of Robbie Williams' hits and they collaborated on five albums.