UK singles chart 'won't include video streaming data'
25 February 2013

From the section

Music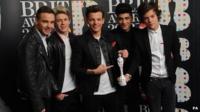 The UK singles chart will not include video streaming data, according to the Official Charts Company.
America's Billboard Hot 100 started using YouTube figures to make up its chart last week.
The Official Charts Company says the UK chart methodology and market are both very different to America.
"The Hot 100 has never been a purely sales based chart, incorporating data such as radio airplay since the 50s," said managing director Martin Talbot.
"In contrast, the UK's Official Singles Chart has been a purely sales based chart ever since it launched in 1952.
"With singles sales currently at an all-time high following nine years of continued year-by-year growth, there are currently no plans to incorporate streaming information in the UK."
Viral hits
The Official Charts Company launched a separate Official Streaming Chart last year.
Sales on the main singles chart continue to be dominated by digital downloads.
Viral hit, the Harlem Shake from Baauer, went to number one in America last week after YouTube data was included in the singles chart for the first time.
Billboard now incorporates all official videos on YouTube, including Vevo on YouTube and user-generated clips that use official audio.
Billboard and Nielsen launched an On-Demand Songs chart in America last year and added streaming data from leading on-demand subscription services such as Spotify, Muve Music, Rhapsody, Slacker, Rdio and Xbox Music.