James Marsden to join Anchorman: The Legend Continues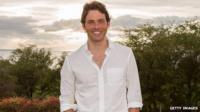 Hollywood actor James Marsden is the latest person to join the cast of the Anchorman sequel.
According to Deadline.com the X-Men star will play a rival to Will Ferrell's character Ron Burgundy, a news anchor based at a San Diego TV station.
Anchorman: The Legend Continues is the follow-up to the 2004 comedy film set in the 1970s.
Secrecy has been high as production begins for a March shoot in Atlanta.
New character
Earlier this month, Christina Applegate, who played Veronica Corningstone in the movie, revealed the news on Twitter that Kristen Wiig had joined the cast.
It's thought much of the original cast will play the same roles again including Paul Rudd, who plays Brian Fantana - the over-sexed field reporter for KVWN news - Steve Carell as weatherman Brick Tamland and David Koechner as Champ the sports reporter.
The film is due for release on 20 December.