Wiz Khalifa and Amber Rose announce birth of their son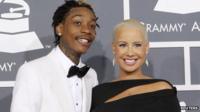 Rapper Wiz Khalifa and his partner, model Amber Rose, have announced the birth of their son.
The couple both used Twitter to confirm the arrival of their first child together.
"Happy Birthday to our baby boy Sebastian 'The Bash' Taylor Thomaz! I'm so happy u guys I fell in love all over again," said Amber.
Earlier Wiz Khalifa posted a message of himself wearing hospital scrubs with the caption "Daddy time".
"Everyone welcome this perfect young man into the world," he later wrote.
Celebrity friends have also been using the social media site to send messages of congratulations to the couple.
Rihanna tweeted a picture of herself and Amber Rose, adding "Congratulations to my fam mistercap and @darealamberrose !!! Welcome baby Bash! You're born in an exquisite month #babypieces".
"Welcome 2 fatherhood mistercap!!! Congrats 2 u n @darealamberrose on ur new son," wrote Snoop Dogg.
Wiz Khalifa, 25, is known for songs including Black and Yellow and his collaboration with Maroon 5 on Payphone.
He and Amber Rose got engaged in 2012. She has previously dated Kanye West and has made cameos in music videos for Nicki Minaj, Ludacris and Young Jeezy.