Election campaigners flood Hampshire town of Eastleigh
21 February 2013

From the section

Politics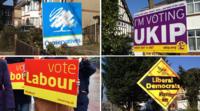 "You just kind of ignore it if it's getting on your nerves," says 24-year-old Jon Reed.
He and his wife Jess, also 24, are dodging politicians who have flooded their Hampshire town of Eastleigh.
"There's a local election going on," explains Jess.
"There's a bit of baby kissing going on down there actually," adds Jon, pointing at campaigners with balloons and placards further down the street.
Voters in Eastleigh are about to pick a new MP after Liberal Democrat Chris Huhne resigned over speeding offences.
'Overblown'
Whether local people like it or not, it's turned the town into a political battleground, particularly between the Conservative and Liberal Democrat coalition partners.
"I think it's all a bit overblown to be honest but there you go," says Jon.
The Prime Minister is visiting the town on Thursday.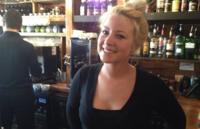 Liberal Democrat deputy PM Nick Clegg has been spending time there too.
Among dozens of other political big-hitters to descend on Eastleigh are Labour leader Ed Miliband and UKIP's head Nigel Farage.
Mia Moulton, 23, has seen several big names pass through the town centre coffee shop where she works.
"I just feel, for my future there is no hope," she says.
An out-of-work beautician, she has moved back with her parents and is doing part-time work to make ends meet.
She says she would vote for whichever candidate she thought could help her progress in life.
"I want to have my own place," she says. "But to find a flat, or even a mortgage just now is just impossible."
Close contest
The two frontrunners to win the Eastleigh by-election are the Conservatives and the Liberal Democrats.
At Westminster, the two parties run the country together in a joint government.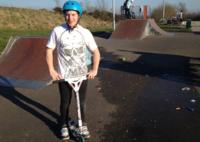 In Eastleigh though, they're head to head in this knife edge contest.
That's a first for British politics, and enthusiasts are watching closely to make predictions about the UK-wide general election, probably in 2015.
Terry Price, 24, runs a scooter display team and is with friends at a local skate park.
Like many in Eastleigh, he's not convinced all the national focus will help make his life better.
"Every party always promises all these great things," he explains. "And then you never actually see anything happen.
"Any person that I vote for, I don't think they're going to make a huge difference."
See a full list of Eastleigh candidates:
COLIN BEX - Wessex regionalists
DAVID BISHOP - Elvis Loves Pets Party
JIM DUGGAN - Peace Party
RAY HALL - Beer, Baccy and Crumpet Party
HOWLING LAUD HOPE - Monster Raving Loony William Hill Party
MARIA HUTCHINGS - Conservative
DIANE JAMES - UK Independence Party
DR IAIN MACLENNAN - National Health Action Party
KEVIN MILBURN - Christian Party "Proclaiming Christ's Lordship"
JOHN O'FARRELL - Labour
DARREN PROCTER - Trade Unionist and Socialist Coalition
DANNY STUPPLE - Independent
MIKE THORNTON - Liberal Democrats
MICHAEL WALTERS - The English Democrats - "Putting England First!"