Kelly Clarkson slams 'false rumours' in new book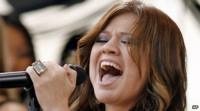 Kelly Clarkson has accused a music executive of bullying and spreading false rumours about her in his new autobiography.
Clive Davis, 80, who signed Clarkson to RCA records, discusses their tense relationship in the book.
Clarkson said claims she "hysterically sobbed" in Davis' office are untrue.
In a post on her blog on Tuesday she also defended her song writing, after he said she struggled to write "pop hits".
Responding to her comments, Davis said: "I am truly very sorry that she has decided to take issue with what I know to be an accurate depiction of our time together."
'Memory lapses'
Clarkson wrote: "So I just heard Clive Davis is releasing a memoir and spreading false information about me and my music. I refuse to be bullied and I just have to clear up his memory lapses.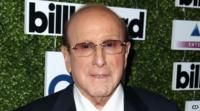 "First, he says I burst into 'hysterical sobbing' in his office when he demanded Since U Been Gone be on my album. Not true at all.
"I did want more guitars added to the original demo and Clive did not. [I] prevailed and I couldn't be more proud of the life of that song. I resent him dampening that song in any way.
She was signed after she won the first season of American Idol in 2002.
Creative differences
However, in her blog, Clarkson went on to say that Davis had made her cry after he criticised her song Because Of You, which went on to become one of her biggest hits.
"This was devastating coming from a man who I, as a young girl, considered a musical hero and was so honoured to work with.
"Growing up is awesome because you learn you don't have to cower to anyone - even Clive Davis."
In an online post, Davis said: "Before the book was published, I had every fact checked with five independent individuals who were present on a daily basis throughout it all.
"The chapter as it is written was thoroughly verified by each and every one of them.
"I stand by the chapter as written in my book. At the same time I wish, and will always wish, Kelly's talent and her career to soar to ever new heights."
In 2007, Kelly Clarkson revealed she was no longer working with Davis because of creative differences over her album. However she later apologised for the feud calling him "one of the greatest record men of all time".
Davis' book also reveals details of when he worked with Whitney Houston and Bruce Springsteen.
Over his career the producer has won four Grammy Awards for Jennifer Hudson's debut in 2009, Kelly Clarkson's Breakaway plus two awards for Santana's Supernatural album in 2000.