Matt Bomer says he wasn't offered Fifty Shades film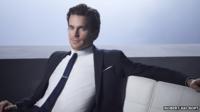 Magic Mike star Matt Bomer has confirmed he has not been approached to play the lead role in Fifty Shades of Grey.
His name was a rumoured front runner to play Christian Grey in the movie based on the book trilogy.
The 35-year-old says he has not been contacted by the film's makers.
Speaking about the role he said: "Did you ask whether I've been approached to play the part? No."
He added: "I'm incredibly flattered by and grateful for the response, for sure, but yeah, I guess that's all I can say about that."
Matt is currently starring in the third series of White Collar on the satellite channel, Alibi.
He plays a con man hired by the FBI to help solve white-collar crimes in exchange for a lower prison sentence.
Matt said he had learned a few tricks, including picking locks and pockets, from working on the TV show.
"Now I have a former con artist whose a consultant on set, who taught me how to pick pockets and pick locks and use sleight of hand.
"I am good at learning it about 15 minutes before we film it and then forgetting it half an hour afterwards."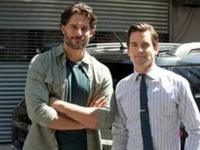 The actor also confirmed rumours that there is a possible sequel to Magic Mike, which he starred in as a male stripper alongside Channing Tatum, Matthew McConaughey, Joe Manganiello and Alex Pettyfer.
"I think there are a lot of pieces that need to fall into place for it to actually happen but it would be fun to get together with everybody again.
"We became a band of brothers really because we all knew we were entering into something that was really scary and out of our comfort zone for the most part and so every body just rose up and supported each other.
Series three of White Collar starts tonight on Alibi from 10pm.