Fizzy drinks as bad as cigarettes, says doctors' group
18 February 2013

From the section

Health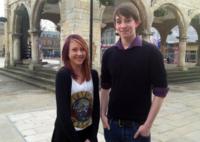 A group representing most of the UK's doctors say sugared fizzy drinks are as big a health problem as cigarettes.
The group wants higher taxes on cans and bottles of pop, to make people choose healthier alternatives like water or juice.
In Peterborough city centre, two friends have been debating the issue.
Self-confessed "sugar addict" Kelly Stockwell, 17, says she'd never give up fizzy drinks.
"If fizzy drinks were that bad they wouldn't make them," she said.
Her friend, 20-year-old friend George Davey, says he feels healthier, and sleeps better, since he cut back.
"I realised how bad I felt in the morning," he said. "Over a period of time it just made me feel terrible."
Cardiologist Doctor Aseem Malhotra helped put the report together for the Academy of Medical Royal Colleges.
He says some cans of fizzy drink contain up to nine teaspoons of sugar.
He said: "They drive weight gain by interfering with hormones that are thought to control appetite. They lead to type two diabetes."
"Maybe," said Kelly. "But I can't not have sugar. I love sugar."
Have your say on fizzy drink plans on Facebook
Junk food
The doctors propose a 20% tax, to make people choose healthier alternatives like water or juices.
But Kelly said: "If someone wants a fizzy drink, they're going to buy it no matter what the price is."
The group also wants adverts for what they see as bad food and drink banned before 9pm, and especially at times when children are watching TV.
The government says it's focused on working with the food industry to make products healthier.
Drinks makers themselves say fizzy pop makes up "just 2%" of an average person's total calories.
George said: "Just don't drink them every day. Maybe one fizzy drink a week or something. It's the same with things like crisps."
Kelly is not convinced though. She said: "I eat junk food every day.
"I've been skinny my whole life and I eat like a horse."