Muse announce Vaccines will join them for War Child gig
18 February 2013

From the section

Music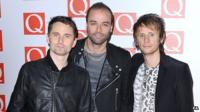 Muse have lined up the Vaccines to join them on stage for their War Child charity gig.
The sold out concert takes place on Monday 18 February at London's Shepherd's Bush Empire but will also be streamed free online.
Bassist Chris Wolstenholme admits their usual stage props will be left at home for the night in a small venue.
"You don't want to spend all the money on pyramids and flashing lights," he says.
"That's money that could be going to the charity."
The British band has been involved with War Child since 2002 and the charity is receiving a special Brit Award at this year's ceremony on 20 February.
Dream collaborations
Chris Wolstenholme says he thinks that the Vaccines are a "great band" and that he's "looking forward" to seeing them.
Muse had hoped to organise some collaborations for the War Child gig but touring commitments proved too much.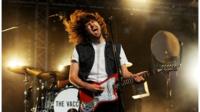 "We did talk about various possibilities for duets and things like that," says Wolstenholme.
"But we're on tour in the States at the moment and there wasn't really enough time for us to get anything together."
If they could be joined on stage by anyone though, Muse are holding out for a British legend.
"Over the years on various occasions we've been trying to do something with Elton John, which we thought would be great," smiles Chris Wolstenholme.
"But every time we've tried to make that happen, the timing of it's all been wrong.
"We tried to get Elton John for Glastonbury once and that didn't happen but it actually turned out all right because we ended up with Edge (from U2) which was perfect."