Drummer's fear of flying disrupts Blink-182 Oz tour
18 February 2013

From the section

Music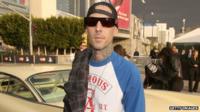 Blink-182's Travis Barker has announced he's skipping the band's tour in Australia due to his fear of flying.
The drummer says he's still suffering from the effects of a plane crash in 2008 which killed four people.
Barker was one of two survivors when a private plane burst into flames during an aborted take-off.
Writing on his Facebook page, he said: "I still haven't gotten over the horrific events that took place the last time I flew."
The crash killed two of his friends and he spent several months in hospital with injuries.
Fear of flying
In a statement, all three members of Blink-182 said: "The band knew the chances of Travis overcoming his fear of flying, which was magnified after the horrible plane crash in 2008, would be a challenge, but we wanted to play for our fans in Australia nonetheless.
"The three of us tried all measures to get us all there in full form."
Barker will be replaced on the tour by Brooks Wackerman from Bad Religion and Tenacious D.
Previously, Mark Hoppus had spoken about how the band juggle their international tour commitments with Barker's fear of planes.
He said: "For Travis to get over here [the UK] he takes a bus from Los Angeles to New York gets on a boat then gets on a bus and travels like that."