Dappy sentenced over assault and affray charges
Dappy has been given a six-month sentence, suspended for 18 months over assault and affray charges.
The 25-year-old N-Dubz star broke down in tears and shouted "yes" after avoiding a jail term at Guildford Crown Court in Surrey.
The singer has been ordered to do 150 hours community service and was also told to pay £4,500 compensation and £2,000 in costs.
Dappy, whose real name is Costadinos Contostavlos, had faced a maximum sentence of three years imprisonment.
He was convicted in connection with a brawl at a petrol station in Guildford on 28 February 2012.
During a nine day trial in January, the court heard Dappy sparked a "mob-handed attack" when he spat at two teenage women.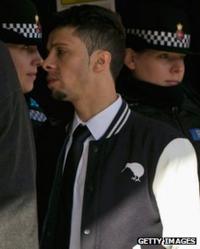 The jury convicted the rapper of affray and assault by beating, which involved him spitting at a man.
He was found not guilty of two other counts of common assault, in which he was accused of spitting at but missing the two 19-year-olds.
'Wake-up call'
Judge Neil Stewart told Dappy that although the offences he committed were serious enough to attract a custodial sentence, he would suspend it because of his remorse.
He said: "The report I have on you suggests you do not present overtly criminal attitudes and this offence has been a wake-up call for you."
Outside court Dappy, wearing a black and white baseball jacket, stopped to share a hug with tearful fans before he was driven away in a black car.
Talking to Newsbeat, he said: "I thought it was the end. Everything I'd worked so hard for all these years. I can't lie, I dropped a tear in that dock."
'Making amends'
Paul Greaney, defending Dappy, claimed that a prison term would have ended his career.
He said: "It is inevitable now that he will not be able to visit or work in America. Furthermore, as a result of the convictions, certain important radio stations will not play his records. His earning capacity now is extremely limited."
Detective Constable Alex Boxall, from Surry Police said: "I hope the sentencing today demonstrates that [Dappy] will be making amends in public for his actions nearly a year ago on the forecourt of a petrol station in Guildford.
"He is a popular rapper who commands a large following and as a high profile musician in the public eye, it is important that the public see that there are consequences for committing such acts."
Two other men were sentenced today over the attack. Alfred Miller, 28, of Brentford west London, was sentenced to 19 months in prison and Kieran Vassell, 25, of Hammersmith, was jailed for 14 months.