Lil Wayne track pulled online over lyric
15 February 2013

From the section

Music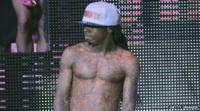 Epic Records is trying to take down a song featuring Lil Wayne which has offended the family of a black teenager murdered nearly 60 years ago.
The label says it is removing the Future track called Karate Chop which features the rapper "out of respect".
Lil Wayne can be heard making a reference to the death of 14-year-old Emmett Till.
He was beaten and shot in the head in Mississippi in 1955 after whistling at a white woman.
Emmett Till was dragged from his bed at his uncle's home in a small Mississippi town, beaten and shot in the head.
It became one of the most controversial moments during America's civil rights era.
Emmett Till's mother insisted on having an open casket at her son's funeral so everyone could see his injuries.
'Hurtful lyrics'
It helped push forward the civil rights movement in America, where between the 1950s and 1970s many reforms took place to stop racism against African Americans.
Epic Records issued a statement apologising for the song.
"We regret the unauthorized remix version of Future's Karate Chop which was leaked online contained hurtful lyrics,'' the statement said.
"Out of respect for the legacy of Emmett Till and his family, we are going through great efforts to take down the unauthorized version.''
An official version of the song will be released that "will not include such references," Epic records added.