Foals: Oxford band go from squat parties to Albert Hall
13 February 2013

From the section

Music
When Foals began to write material for their third album there were just a couple of rules.
"There were two things we didn't want to do," recalls frontman Yannis Philappakis.
"One was not do a record which was exactly like [2008's] Antidotes. The other was not to do one which was exactly like [2010's] Total Life Forever.
"We have an internal motor which means we don't want to do the things which are prior," he smiles.
Holy Fire
True to their word, that's what they've done on Holy Fire - which is currently top of the midweek album chart (12 February).
It sees the Oxford group exploring new musical territory, but also threatens to catapult them to the attention of a much wider audience.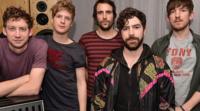 The first hint of change arrived late 2012 with the release of Inhaler - a melodic track built around a hulking, huge guitar riff.
"It just feels good to do from the neck down," explains Philappakis, about their heavier slant.
"Me and Jack Bevan [drums] were in a band when we were younger. It was heavy riffs all the way through - we hadn't explored it for such a long time that it became interesting again.
"The heavier bands which I grew up listening to were like Slayer, Deftones, Tool, Black Sabbath. Obviously Rage [Against The Machine], everyone loves Rage."
It's not a complete make-over for the band but it is an evolution. Reviews of Holy Fire have focussed on Foals' continuous rise.
BBC Music's review said "arena tours should await them", while NME called it "sharp, emotive, massive".
Ambition
Yannis admits back when the band were touring in a recycled Royal Mail van "playing to no-one" they didn't think six years down the line they'd be playing the main stage at Reading festival.
"The more people we get to play to, the more of a connection," he says. "It's all the sweeter because it didn't happen instantly."
Indeed, since forming the Oxford band have gone from playing sweaty squat parties to headlining London's Royal Albert Hall via a Mercury Prize nomination and numerous world tours.
"There's something to be said for taking your time and earning those sorts of things rather them them just falling in your lap on day one," smiles Yannis.
"We really are locked into the day-to-day, there's probably a really frightening lack of forethought," he says, playing down their ambition.
Side projects
What's clear though, whether they planned it or not Foals are about to get a whole lot bigger. And the band's ambitions are getting broader.
"I'd love to [do] a film soundtrack - I'm sure Jimmy [Smith, guitar] would as well," explains the singer.
"At some point, probably in the not too distance future, we are going to start doing things on the side largely to satisfy creative impulses which we can't satisfy with Foals.
"There are definitely certain things I would like to do which would shock, terrify and scar a lot of Foals fans."
Holy Fire is out now